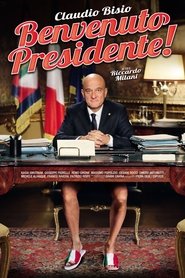 Welcome Mr. President! (2013)
Mar. 21, 2013
Italy
100 Min.
PG
Synopsis
Urmareste filmul Welcome Mr. President! (2013) Online Subtitrat Gratis. Genurile acestui film sunt: Comedy. Filmul a avut premiera pe data de: Mar. 21, 2013, fiind postat pe acest website in aceeasi perioada. Poti vedea filmul Welcome Mr. President! (2013) Online sau il poti descarca pentru a il vedea offline la cea mai buna calitate doar pe site-ul acesta.
Povestea, pe scurt a filmului - In Engleza - In a small mountain village lives a man with a challenging name, Giuseppe Garibaldi (one of Italy's "fathers of the fatherland"), but everybody call him with the nickname Peppino. Love fishing, the company of friends, the library where he works as a precarious employee. He is an optimistic person even if his child accuse him of being a wannabe. One day, due to a mess of politicians, an amazing thing happens: Peppino is mistakenly elected President of the Italian Republic. Pulled out from his quiet life, is to play a role for which he knows he is obviously inappropriate, but his common sense and his instinctive gestures are incredibly effective, except for the etiquette, for which he is in trouble. The inflexible and fascinating Deputy Secretary General of the Presidency of the Republic, Janis Clementi, is anxious to no avail in an attempt to regulate the unpredictable actions of the President...
Tiltul Original
Benvenuto Presidente!